Safeguarding
The Senior Designated Person(s) at the BLC  are:
Wendy Nicholls
Hannah Speakman
Clare Kemp
Laura Coe
Catherine Holden
Please click here to access the BLC's Safeguarding Policy
The BLC is signed up to Operation Encompass. This enables school to receive information from the Police about incidents that they have attended. This allows school to have a clear overview of circumstances related to pupils in their communities and allows school to implement strategies to support pupils and families.
Helpful links
Think U Know website  Please click here 
Brook Website – please click here 
Young Minds (Mental Health Support) – please click here 
Please click on the below button to access the CEOP page

Useful  contacts:
Local Authority Designated Officer (LADO): lado@rochdale.gov.uk
Police: Telephone Contacts 101
Crime stoppers 0800555111
Channel/Prevent: 01706-922927
Email: channel@rochdale.gov.uk
Counter Terrorism Hotline: 0800 789 321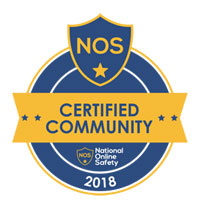 Certified by nationalonlinesafety.com